| | |
| --- | --- |
| Setting Up a Facility Help Desk | |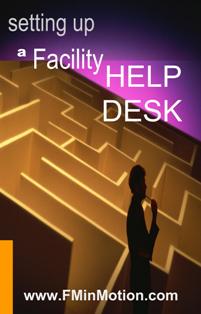 Price: USD 95.00
A facility help desk is a place that building occupants can call to get help with facility-related problems. In many organizations, a help desk is simply one person with a phone number and a more or less organized idea of how to handle the problems that come in. In larger organizations, a help desk may consist of a group of experts using software to help track the status of problems.

If your facility organization is considering a more structured approach to serving the needs of building occupants, this resource will be helpful in that process. The 175+ pages book addresses aspects such as structuring of help desk operations, service levels, staffing and operations requirements, service request procedures, facilitating easy access, etc.

Resource materials cover the following key topical areas:
- The help desk contribution to the organization
- Objectives, duties and functions of the help desk
- Structuring of facility services
- Key steps for initiating a help desk
- Key factors for success
- Critical issues in running your help desk and how to address them
- Staffing of the help desk
- The automated help desk
- Help desk software
- Guidelines for preparing a help desk software request for proposal
- Considerations when outsourcing the help desk
- Training help desk staff

Self-test section(s) included.

Free shipping to Singapore & South East Asia
---
Details
SKU: SFHD B S
ISBN: 978-1-897419-42-7
Weight: 1.00 lbs

---