| | |
| --- | --- |
| Facility Construction and Renovation Projects | |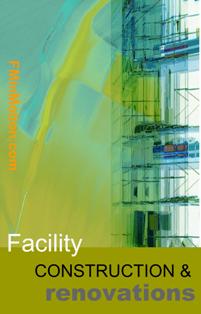 Price: USD 139.99
This resource is designed for facility practitioners who wish to increase their understanding of the various stages involved in construction and renovation projects.

Facility Management organizations are increasingly acquiring more and more responsibility for the stewardship of corporate assets. This increased responsibility incorporates preserving existing facilities, while planning for future asset requirements. In this 500+ pages resource we address a wide range of aspects pertaining to construction and renovation. Regardless of the type of expenditure, it is essential that all aspects are incorporated into the facility profile.

Resource materials cover the following key topical areas:
- Guiding principles for construction/renovation management
- Overview of project management
- The project management process: textbook versus reality
- The facility planning process
- Project plan
- Customer analysis
- Existing situation
- Establishing the project team
- Determining space requirements
- Establishing the project schedule and budget
- From conceptual design to design finalization
- Design elements
- Bid packages and quotes
- General contractor and consultant selection
- Project team meetings
- Implementing and finalizing the project
- Cost accounting
- Communication
- The construction process
- Construction administration- Contract administration
- Construction documents

Self-test section(s) included.
Free shipping to Singapore & South East Asia
---
Details
SKU: FACC B S
ISBN: 978-1-897419-18-2
Weight: 1.00 lbs
---